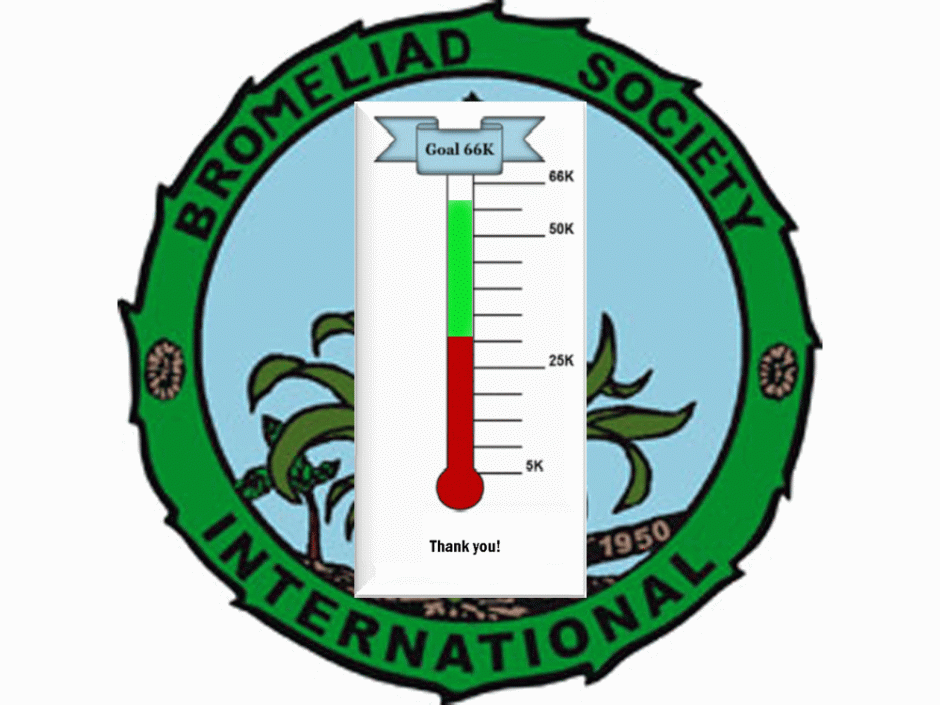 November 15, 2016
Dear Bromeliad Friends:
For over 66 years the Bromeliad Society International has been serving bromeliad enthusiasts with a range of benefits befitting our humble beginnings. Times have changed and so have many of the faces and challenges of operating a global organization. We find that our members are more apt to read an article online or search out information on the web than participate in club meetings or join an organization such as ours.
For these reasons, and our intent to evolve with these changes, we are coming to you today to ask for your support in our first ever fundraising effort, the BSI 66 Fund.
We already provide some wonderful benefits to our members including:
A dedicated research library at the Marie Selby Botanical Gardens
An information packed BSI.org website containing cultural information, club and society information, the Judges Handbook, show schedules and more
Online Journal archives from our very first one published in 1951 by editor, Mulford B. Foster
Historical Archives of the BSI, catalogued and maintained by the University of Central Florida
The one and only, BSI Cultivar Register, which is the only International Cultivar Registration Authority for Bromeliaceae, appointed by the International Society for Horticultural Science's Commission for Nomenclature and Cultivar Registration, containing nearly 14,000 individual entries
Three recent recipients of the Harry Luther Scholarship Fund, administered by the Marie Selby Botanical Gardens, Sarasota, Florida The First BSI Journal published in 1951.
The quarterly BSI Journal containing knowledgeable and in-depth articles on every aspect of Bromeliaceae
Accredited Judges' School to teach and train new judges from the US and other countries
Continuing efforts at the Rare Plant Auction which this year netted over $8K towards our Victoria Padilla - Conservation and Scientific Research Fund
And all of this, while maintaining a completely volunteer staff. It can sometimes be a daunting endeavor but we must continue our efforts for the survival of our wonderful organization, for today's members and the for ones yet to join. We've identified several areas that we must challenge ourselves to change in order for the BSI to continue for another 66 years. These efforts include:
A larger, more pronounced presence in social media and online through our BSI.org website
On time publication and delivery of our world class Journal
Creation of more resources enabling more conservation and scientific research
Continuing robust, substantive World Bromeliad Conferences attracting members from all continents of the world Through a very generous offer, an anonymous donor has volunteered to
match the first $25,000, enabling us to quickly realize our full goal of $66,000 to celebrate our BSI 66th Anniversary.
This will require that we raise $25,000 by June 19, 2017. If we reach this fundraising goal it will be doubled to $50,000 on that date by our very gracious donor. We are already making gains. Our donations are currently just over $12,000! This is an excellent start but we need to go further to qualify for the matching funds.
Biennial World Bromeliad Conferences like the one we just held this past June, hosted by our good friends; the Houston Bromeliad Society. And a wonderful event it was; with enlightening speakers from around the world, a Judged Bromeliad Show, garden tours, an incredible plant sale and of course all the fun and camaraderie of sharing our bromeliad passion. We look forward to the next one to be held in San Diego, California from May 29th - June 3rd 2018.
You can contribute online right now with a credit card by clicking the button below:
---
You may also contribute by mailing a check or money order to:
Bromeliad Society International
BSI Treasurer
Ben Klugh
2515 County Road 369,
Cullman, Alabama 35057, USA
treasurer@bsi.org