The 2018 World Bromeliad Conference Optional Bus Tour Excursion has been announced. Don't wait to register, as space is limited.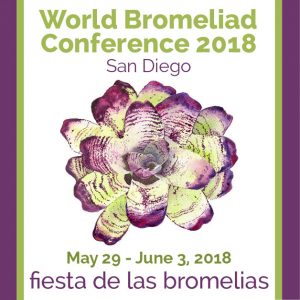 A fun part of the World Bromeliad Conference in San Diego will be an afternoon and evening bus excursion! We board luxury buses Thursday, May 31st after lunch. Then we're off to North San Diego County to see two fantastic member gardens that are conveniently next door to one another. Next, we head south for a visit to the San Diego Botanic Gardens where we'll tour the grounds and have an informal Mexican dinner together.
Please visit the Conference Corner tabs on the BSI website, bsi.org to keep abreast of what's happening.
Cost per person: $60.00
To register:  The cost of the bus excursion is not included in the registration fee. To join us on the optional bus excursion, fill-out the details below and mail this sheet, along with your check in USD, to Annette Dominguez, BSI Membership Secretary, 8117 Shenandoah Drive, Austin, TX 78753-5734.
You can download the register form in PDF format, or use the form below for online registration and payment.