[an error occurred while processing this directive]
The Journal of the Bromeliad Society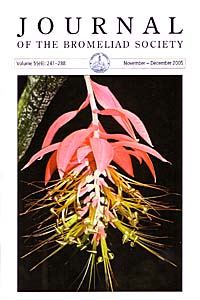 The Journal, ISSN 0090-8738, is published bimonthly at Orlando, Florida by the Bromeliad Society International. Articles and photographs are earnestly solicited. Closing date is 60 days before month of issue. Permission is granted to reprint articles in the Journal, in whole or in part, when credit is given to the author and to the Bromeliad Society International. Please address all correspondence about articles and advertising to the editor.
Editor: Evan Bartholomew, 13-3588 Moku St, Pahoa, HI, 96778, E-mail: editor@bsi.org.
Editorial Advisory Board: David H. Benzing, Gregory K. Brown, Jason Grant, Pamela Koide, Thomas U. Lineham, Jr., Harry E. Luther, Walter Till.
Membership: Subscription price (in U.S. $) is included in the 12-month membership dues. Please address all membership and subscription correspondence to Membership Secretary, Dan Kinnard, 6901 Kellyn Ln, Vista, CA 92084-1243 E-mail: membership@bsi.org. View the Application for Membership for more information.
Advertising: Advertising space in the Journal of the Bromeliad Society is available at the following rates. Rates are for Black and white only. Cost for color ad furnished upon request. All advertising prepaid. Advertisers should provide any art work desired.
Size
One Issue
Additional Issue
One Year
Full-page (b&w/color)
$125/200
$100/150
$625/950
Half-page
$70/100
$55/75
$350/475
Quarter-page
$45/60
$35/50
$220/310
Eighth-page
$25/40
$20/30
$125/190
Advertising is presented as a service to our membership and does not necessarily imply endorsement of the product. Please address all correspondence to the Editor. See inside cover page for contact information. All advertising is prepaid. Advertisers to provide any art work desired.
[an error occurred while processing this directive]