SAN DIEGO BROMELIAD SOCIETY
P.O. Box 83996
San Diego, CA 92138-3996
SAN DIEGO BROMELIAD SOCIETY
Meets the 2nd SATURDAY
of each month 10:00 A.M. in
Balboa Park, Casa Del Prado
Botanical Library Room 104
FREE AND VISITORS WELCOME
The April Meeting will be on April 11, 2015 at 10 AM in Balboa Park, Casa del Prado, in Room 104. "Bromeliads in Ecuador: the Puyas" will be the subject of a talk by Betty Patterson. Her presentation will consist of slides and information from many trips to Ecuador. Betty has furnished the information below so that we may know a little about her: I am a musician that played with the Dallas Symphony for 45 years. I started going to Ecuador in 1985 & have been there over 30 times. I translated Jose Manzanares book about the bromeliads of Ecuador and I traveled with him on many many collecting trips I'm also interested in training dogs. I have 2 wire-haired dachshunds & a wire-haired pointing grifon. Now that I am retired I can travel & enjoy other activities such as hiking & reading.

SHOW 2014

SAN DIEGO BROMELIAD SOCIETY SHOW
2014 HEAD TABLE


GOLD Mulford B. Foster Award Best of Show Horticulture 2014

Tilliandsia edithae entered by Jim Wright



GOLD Morris Henry Hobbs Best of Show Artistic 2014


Tillandsia streptophylla x chiapensis entered
by Dave Kennedy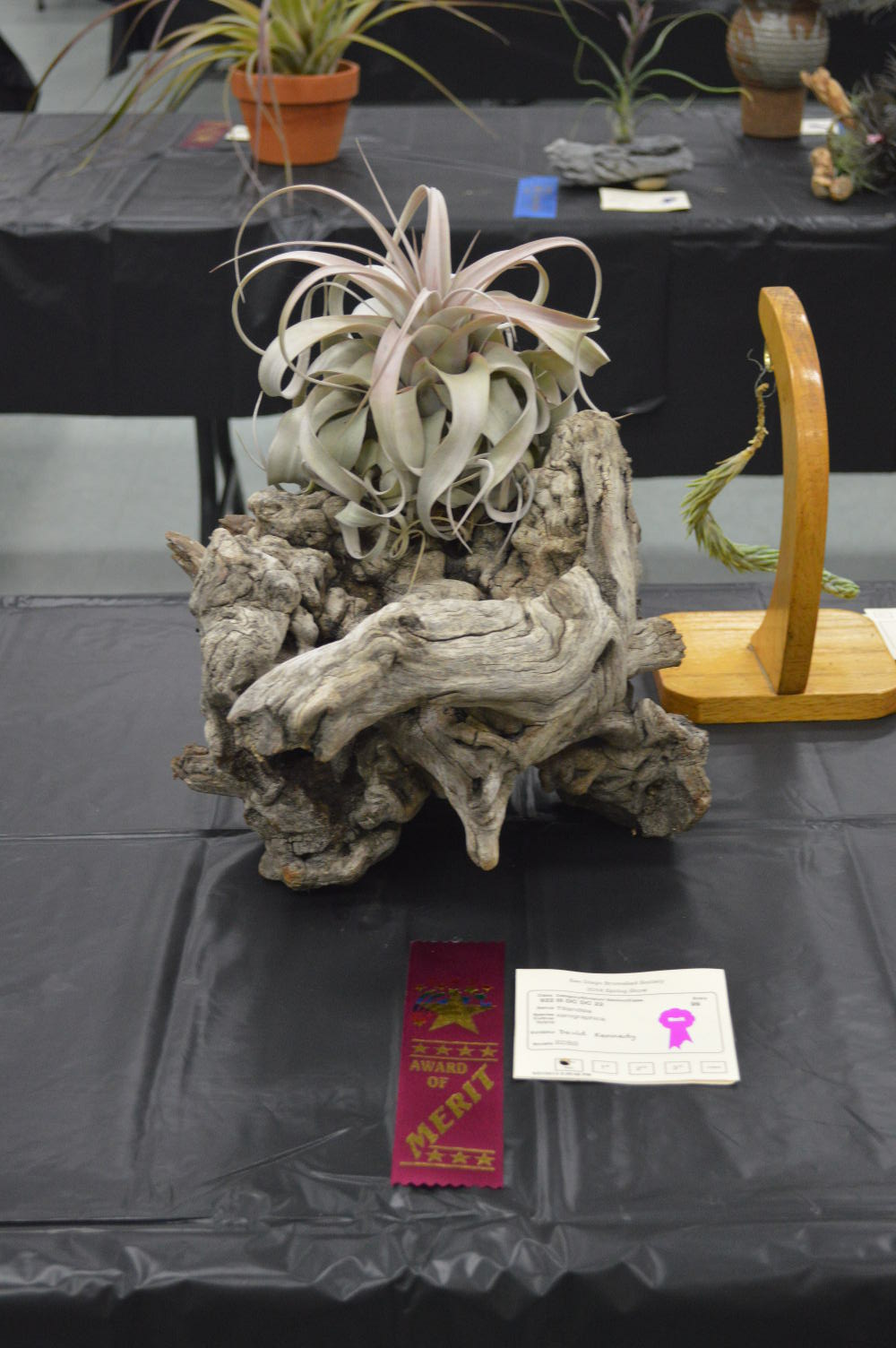 GOLD Sweepstakes This award is for the person who entered the most plants with Awards of Merit or Blue Ribbons.
This Tillandsia shown is one picked from the many entered by Dave Kennedy






SILVER Category I Division S XNeomea 'Zydeco' entered by Dan Kinnard - Eloise Lau






SILVER Category I Division M Quesnelia marmorta 'Tim Plowman'variegated entered by
Dan Kinnard - Eloise Lau






SILVER Category III Division DC Neoregelia 'Hannibal Lector' entered by Scott Sandel



SDBS 2014 Bromeliad Show

>

←Award Bronze Category I Division S Section F
Tillandsia ehlersiana X streptophylla
entered by Dan Kinnard - Eloise Lau




Award Bronze Category I Division S Section B →
Tillandsia magnusiana
entered by Dave Kennedy

←Award Bronze Category I Division M Section F
Aechmea triangularis
entered by Dan Kinnard - Eloise Lau




Award Bronze Category I Division M Section F →
Billbergia 'Darth Vader'
Entered by Dan Kinnard - Eloise Lau

>

← Award Bronze Category I Division M Section F
Dyckia goehringii
entered by Andy Siekkinin




Award Bronze Category I Division M Section B →
Tillandsia lorentziana
Entered by Dan Kinnard - Eloise Lau

← Award Bronze Category I Division M Section B
Billbergia 'Hallelujah'
entered by Nancy Groves




Award Bronze Category III Division DC →
Deuterocohnia lorentziana
entered by Robert Walters

---

Judges for 2014 were:
Cristy Brenner
Pam Koide Hyatt
Roger Lane


***2014 Show photography by Scott Sandel, Bob Vitacco, and Dave Kennedy .

CALENDAR 2015

| | | | |
| --- | --- | --- | --- |
| January 10 | Pam Koide-Hyatt | | |
| February 14 | George Allaria | | |
| March 14-15 | Tomatomania at the San Diego Botanic Garden | | |
| March 14 | John Traeger from the Huntington Gardens | The Broms of Oaxaca | |
| April 11 | Betty Patterson from Texas | Talk on Bromeliads of Ecuador | |
| April 18 | Field trip Huntington Gardens | The charge would be $25/person for members and $50/person for non-members | |
| May 9 | Nels Christensen from Los Angeles | Talk on Bromeliads in the Gardens of the Canary Islands | |
| May 9 | GARDEN PARTY FOR THE CENTURYs | held May 9, 9:00-4:00 in Balboa Park on the Prodo | |
| June 13 | Show and Sale | | |
| July 11 | Aaron Sedivy | A tour of the Denver Botanic Garden and more | |
| August 8 | Outing/Picnic | The world famous San Diego Zoo(includes a tram tour of the zoo) | |
| September 12 | Jeffrey Kent? | | |
| October 10 | Mini presentations (3 people for 15 minutes each) | | |
| November 14 | Bruce Holst from Selby Gardens, Florida | | |
| December 12 | Bruce Holst from Selby Gardens, Florida | Christmas Party | |



CLUB OFFICERS

| POSITION | NAME | PHONE | EMAIL |
| --- | --- | --- | --- |
| President | Robert Kopstein | (760)726 8300 | rwkopfstein@gmail.com |
| First Vice President for Programs | Position OPEN | | |
| Second VicePresident for Plant Table | Dave Kennedy | (858)-278-6532 | thedavekennedy@gmail.com |
| Secretary | Ruth Contino | (619)303-2144 | ruth.contino@baesystems.com |
| Treasurer | Al Evans,Jr. | (858)-488-1661 | alevans001@earthlink.net |
| Newsletter | Dan Kinnard | (760) 414-9639 | dankinnard@mac.com |
| PastPresident | Robert Vitacco | (619)469-3539 | rvitacco@cox.net |
| Board of Directors | Lucia Velazquez | (619)-283-0500 | luciavmccanna@yahoo.com |
| Board of Directors | Bob Walters | (619)-282-2246 | cactusbobboy@gmail.com |
| Board of Directors | Nancy Groves | (858) 453-6489 | nancygroves@me.com |
| Board of Directors | Scott Sande | (610)-325-1990 | sandel-marich@cox.net |
| Web Masters | Nancy Groves & Bob Vitacco | (610)-325-1990 | sandel-marich@cox.net |
| Librarian | Eloise Lau | (610)-325-1990 | dankinnard@mac.com |




MEMBERSHIP