SAN DIEGO BROMELIAD SOCIETY
P.O. Box 83996
San Diego, CA 92138-3996
SAN DIEGO BROMELIAD SOCIETY
Meets the 2nd SATURDAY
of each month 10:00 A.M. in
Balboa Park, Casa Del Prado
Botanical Library Room 104
FREE AND VISITORS WELCOME
Novembers Meeting Saturday The 14th
Bruce Holst will take us on a trip to an unusual and remote cenote (sinkhole) in an area rich with bromeliads and the presence of the ancient Maya, and one of the most floristically diverse locations in the country. Bio: Bruce Holst has studied plants of the American tropics for over 30 years and has participated on more than 20 international expeditions, most recently to Belize, Costa Rica, and Venezuela to conduct botanical inventories. He has participated in Conservation International's Rapid Assessment Program and served in the Peace Corps in Honduras. He currently edits Selby Gardens' research journal, Selbyana, and was editor of the Journal of the Bromeliad Society. Some of his work in the past decade has involved both basic floristic inventories in SW Florida, and applied conservation work in Miami-Dade County and Everglades National Park.
Election of officers and bylaws revision approval will be taken .
Draft Revisions for Bylaws with original wording
Revised Bylaws 2015

SEE OUR AWARD WINNING
'REMEMBRANCE OF THINGS PAST'
BROMELIAD DISPLAY AT THE
SAN DIEGO COUNTY FAIR
THE GARDEN SECTION THROUGH JULY 5th.




















































-->










SAN DIEGO BROMELIAD SOCIETY SHOW
2015 HEAD TABLE


BSI Mulford B. Foster Award Best of Show Horticulture 2015

Tillandsia tectorum

entered by Dan/Eloise Kinnard/Lau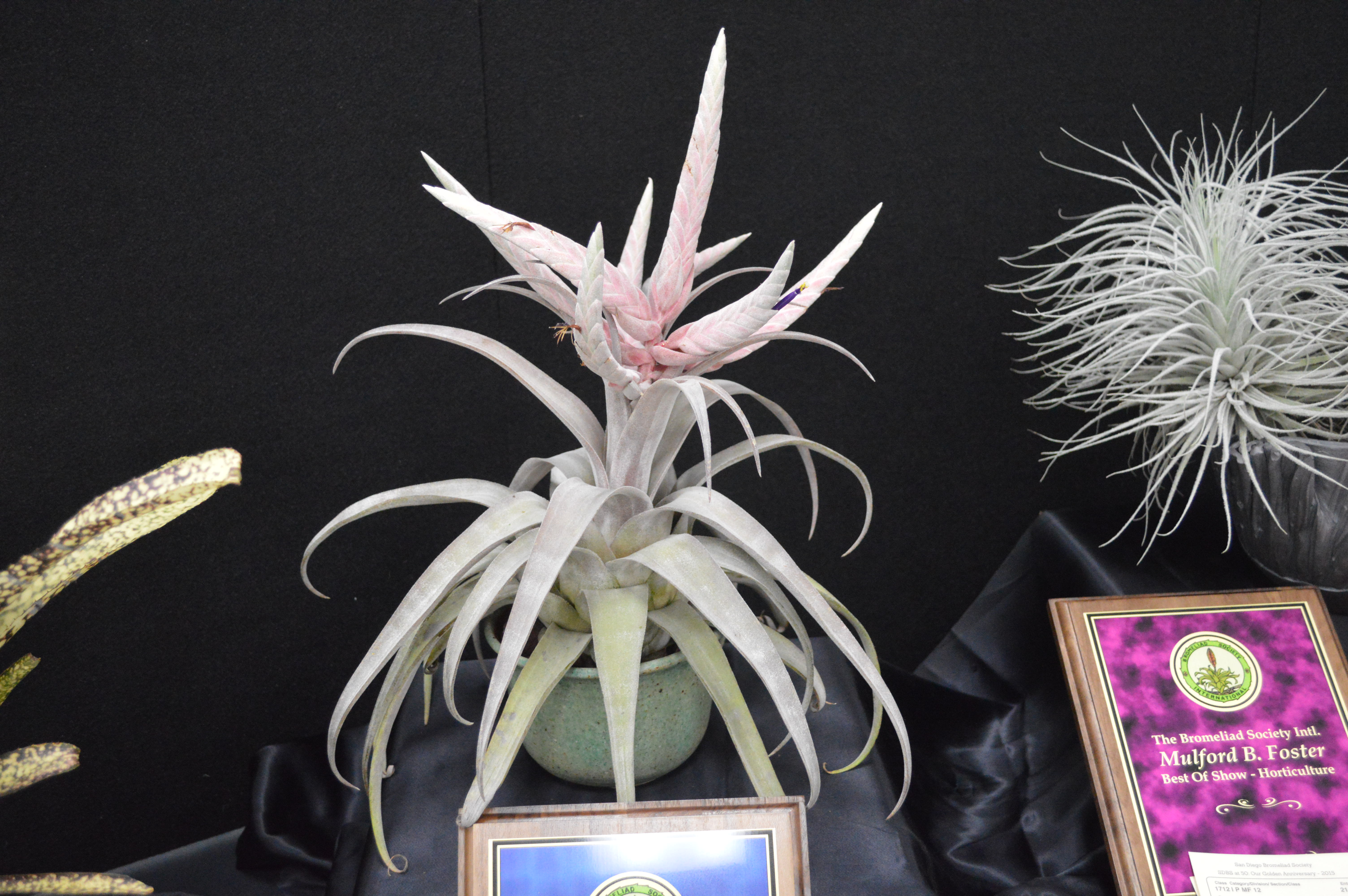 BSI Morris Henry Hobbs Best of Show Artistic 2015


Tillandsia streptophylla X chiapensis

entered by David Kennedy



B.S.I. Sweepstakes. This award is for the person who won the most
Awards of Merit or Blue Ribbons.
This Awarded to Andy Siekkinen
This Billbergia shown is one picked from the many

entered by Andy Siekkinen






SILVER Category I Division S Tillandsia zacapanensis

entered by David Kennedy






SILVER Category I Division M Billbergia 'Limestone'

entered byAndy Siekkinen






SILVER Category III Division DC Tillandsia Collection

entered by Monica Mroz




SILVER Category I Division P 'Deuterocohnia brevifolia'

entered by Kay Quijada




SILVER Category I Division P Tillandsia fasciculata 2 forms 5 plants

entered by David Kennedy



SDBS 2015 Bromeliad Show

>

←Award Bronze Category I Division S Section F
Billbergia 'Ole'
entered by Dan/Eloise Kinnard/Lau




Award Bronze Category I Division S Section B→
Billbergia'Smokestack'
entered by Dan/Eloise Kinnard / Lau

←Bronze Category I Division M Section F
Billbergia'Tickled Pink'
entered by Andy Siekkinen




Bronze Category II Division M Section B→
Tillandsia ionantha (various cultivars)
Entered by David Kennedy

>

←Bronze Category I Division M Section F
Tillandsia'Houston' small form
entered by David Kennedy




Award Bronze Category I Division S Section F→
Tillandsia stricta (black tip)
entered by Rhonda Smoot

←Bronze Category I Division S Section B
Racinaea spiculosa
entered by David Kennedy




Bronze Category I Division S Section B →
Tillandsia multiflora
Entered by David Kennedy




The Pineapple Exhibit
entered by Mary Whittemore




The Puya Exhibit
entered by Bob Wright




People's Choice - Favorite

and

People's Choice - Weirdest
Neoregelia 'Fireball' entered by Kay Quijada

> CALENDAR 2015

| | | | |
| --- | --- | --- | --- |
| January 10 | Pam Koide-Hyatt | | |
| February 14 | George Allaria | | |
| March 14-15 | Tomatomania at the San Diego Botanic Garden | | |
| March 14 | John Traeger from the Huntington Gardens | The Broms of Oaxaca | |
| April 11 | Betty Patterson from Texas | Talk on Bromeliads of Ecuador | |
| April 18 | Field trip Huntington Gardens | The charge would be $25/person for members and $50/person for non-members | |
| May 9 | Nels Christensen from Los Angeles | Talk on Bromeliads in the Gardens of the Canary Islands | |
| May 9 | GARDEN PARTY FOR THE CENTURYs | held May 9, 9:00-4:00 in Balboa Park on the Prodo | |
| June 13 | Show and Sale | | |
| July 11 | Aaron Sedivy | A tour of the Denver Botanic Garden and more | |
| August 8 | Outing/Picnic | A picnic at Dans and Eloise Garden | |
| September 12 | Jeffrey Kent? | | |
| October 10 | Mini presentations (3 people for 15 minutes each) | | |
| November 14 | Bruce Holst from Selby Gardens, Florida | | |
| December 12 | Bruce Holst from Selby Gardens, Florida | Christmas Party | |



CALENDAR 2016

| | | | |
| --- | --- | --- | --- |
| May 21- 22 | BROMELIAD SHOW and SALE | Room 101 Casa Del Prado (Balbo Park) | |



CLUB OFFICERS

| POSITION | NAME | PHONE | EMAIL |
| --- | --- | --- | --- |
| President | Robert Kopstein | (760)726 8300 | rwkopfstein@gmail.com |
| First VicePresident for Plant Table | Dave Kennedy | (858)-278-6532 | thedavekennedy@gmail.com |
| Secretary | Ruth Contino | (619)303-2144 | ruth.contino@baesystems.com |
| Treasurer | Al Evans,Jr. | (858)-488-1661 | alevans001@earthlink.net |
| Newsletter | Dan Kinnard | (760) 414-9639 | dankinnard@mac.com |
| PastPresident | Robert Vitacco | (619)469-3539 | rvitacco@cox.net |
| Board of Directors | Lucia Velazquez | (619)-283-0500 | luciavmccanna@yahoo.com |
| Board of Directors | Bob Walters | (619)-282-2246 | cactusbobboy@gmail.com |
| Board of Directors | Mary Whittemore | (619) 561-0687 | Mahiwh@aol.com |
| Board of Directors | Scott Sandel | (610)-325-1990 | sandel-marich@cox.net |
| Web Masters | Nancy Groves & Bob Vitacco | (619)-469-3539 | rvitacco@cox.net |
| Librarian | Eloise Lau | (610)-325-1990 | dankinnard@mac.com |







   
    Membership Dues     1 year      2 years

Single Newsletter via email         $13 $22
Dual/Family Newsletter via email    $17 $30
Single Newsletter via Postal        $28 $52
Dual/Family Newsletter via Postal   $32 $60

 


Mail to:

San Diego Bromeliad Society

P.O. Box 83996

San Diego, CA 92138-3996