SBBA work party at the Rainforest Flora nursery in Bonsall, CA January 13, 2018.
<![if !vml]>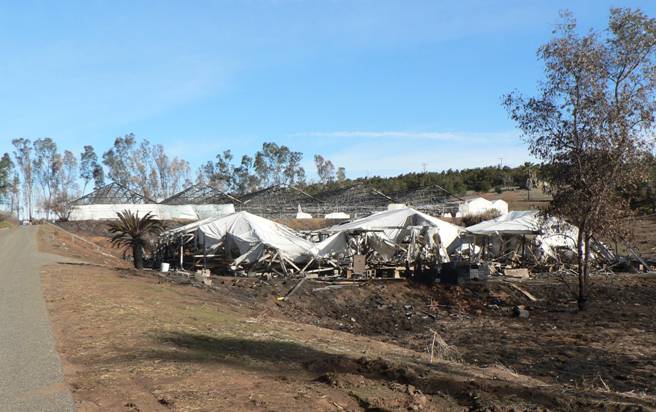 <![endif]>
At the left is the road leading to the greenhouse area. In the foreground are tarps covering what's left of an employee's family home, now covered with tarps. Shells of 5 burned-out greenhouses are in the background.
<![if !vml]>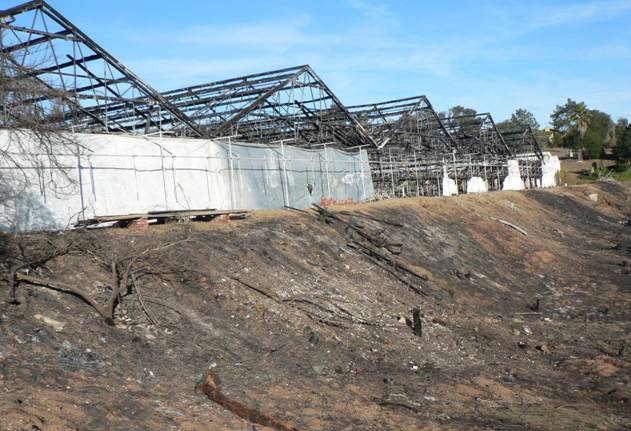 <![endif]>
These greenhouses were once covered with big fiberglass tarps, protecting a priceless collection of exotic plants.
<![if !vml]>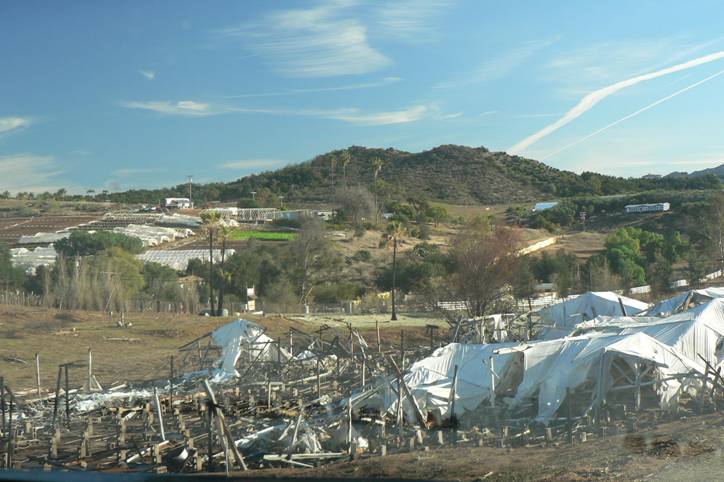 <![endif]>
This is a view looking south, showing one of several neighboring properties owned by nurseries whose greenhouses were untouched by the fires. The Rainforest disaster is called the "Lilac Fire" because the nursery resides on West Lilac Road.
<![if !vml]>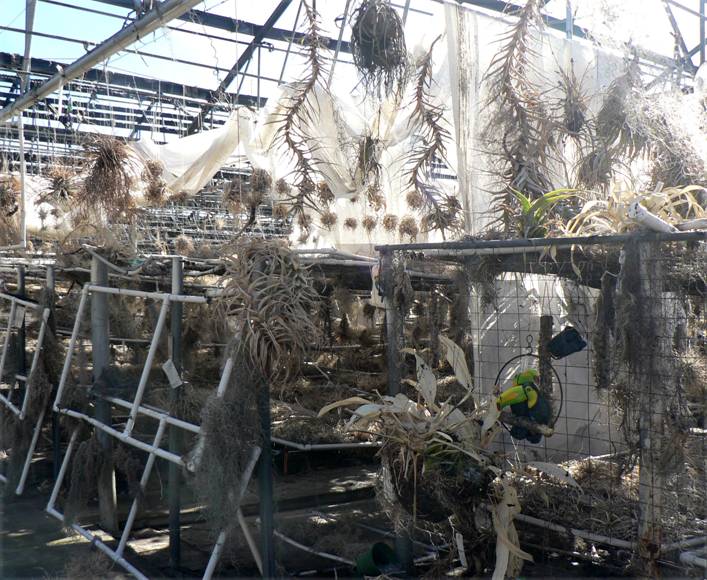 <![endif]>
Inside one of the greenhouses, workers tried to protect any surviving plants from the sun with white tarps. These were shredded by fierce Santa Ana winds 2 weeks after the fire. The sun and wind dried out many of the marginal plants before they could be removed to safety.
<![if !vml]>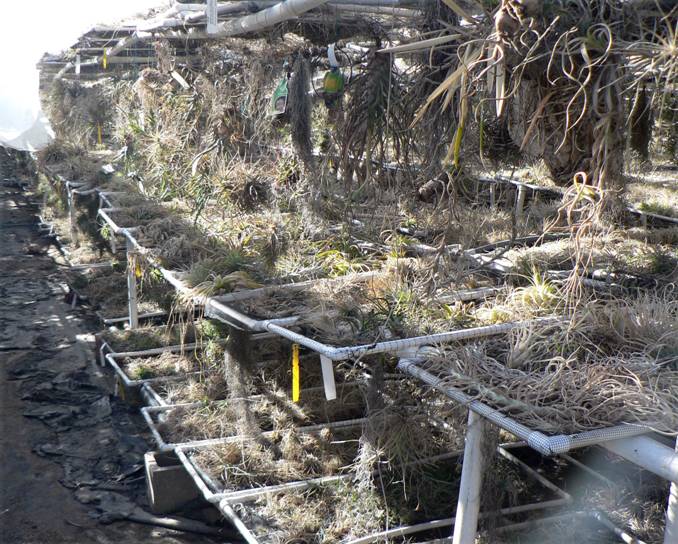 <![endif]>
These white rectangular frames are made of PVC plastic pipe with netting stretched across them to form trays. Growing plants are placed on these trays and arranged on three levels. Larger tillandsias hang from horizontal support rods. Once green and thriving, most of these tillies are dry, brown, and dead or nearly so. Paul Isley estimates ~30% survival rate.
<![if !vml]>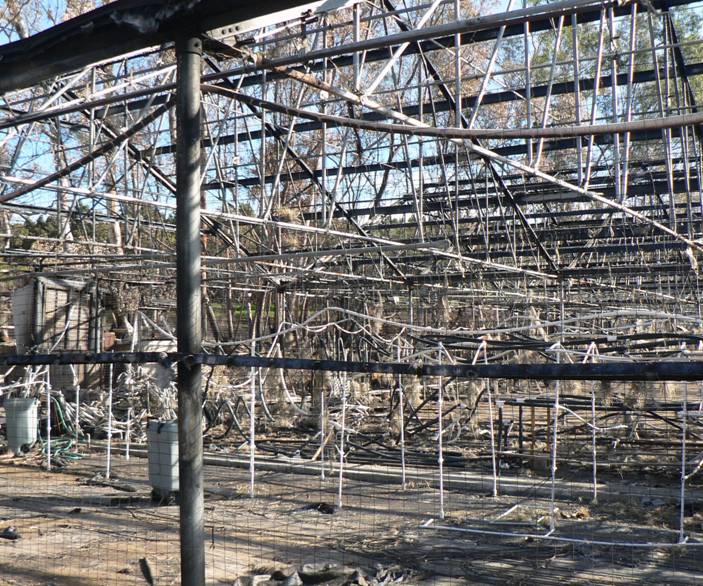 <![endif]>
Inside this part of the greenhouse, the 3-tier racks of trays have been removed. The PVC water pipes were melted, so surviving plants must be watered by hand using long hoses like the green one at the left. This is time-consuming work.
<![if !vml]>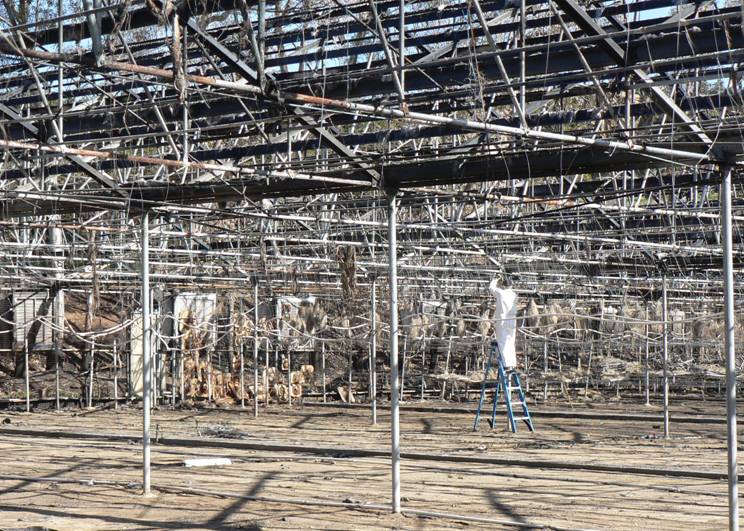 <![endif]>
Here, a volunteer from the local Mormon church removes remnants of burned and melted fiberglass from upper rafters. Along the back wall were once long rows of mounted staghorn ferns, many extremely rare, now destroyed. Some of the square backboards have survived. Paul Isley removed most of the large burned fiberglass panels himself, wearing a respirator to protect his lungs from the toxic particles in the air.
<![if !vml]>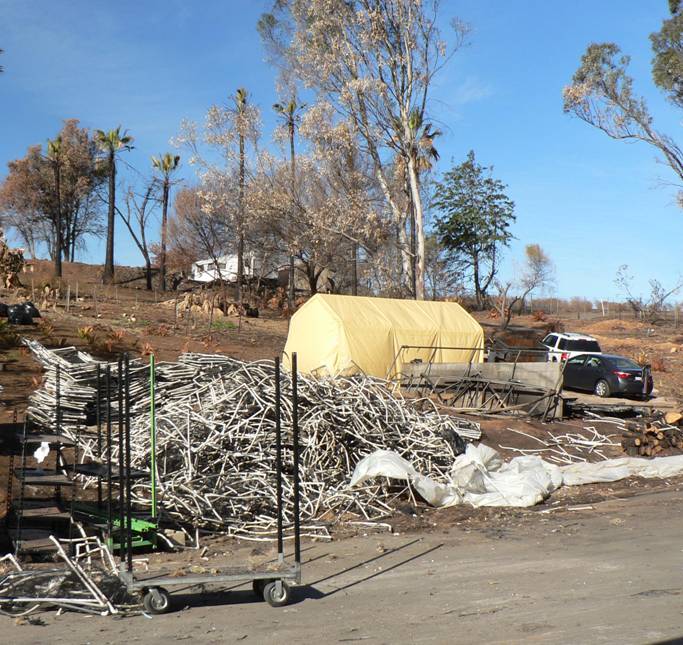 <![endif]>
One of many piles of twisted, damaged PVC pipe used for plant frames. The netting was melted. These unsalvageable pieces were loaded into a big truck-body-sized trash container by the Mormon volunteers. The employee's family's temporary housing is the white mobile home on the hill.
<![if !vml]>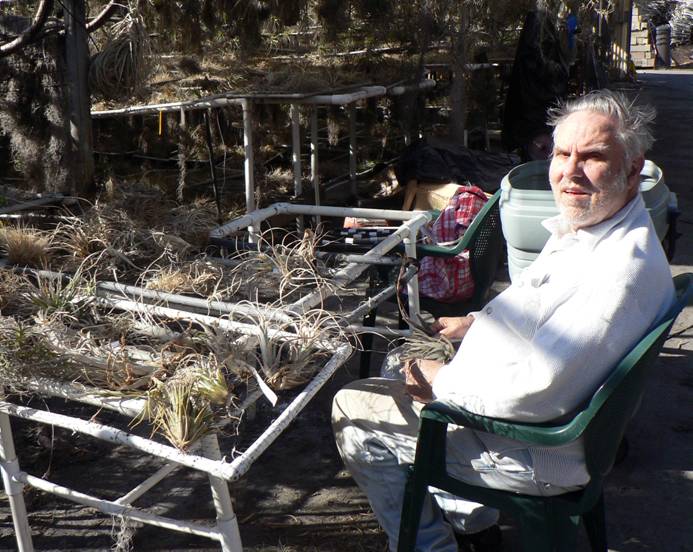 <![endif]>
SBBA volunteer Karl Poehlmann sits at a sorting table "separating the wheat from the chaff." In other words, he is doing triage on tray after tray of damaged plants, tossing out the obviously dead ones and carefully trimming any that show a little green and a strong root stem. Out of 20 trays, he and spouse Katherine re-assembled 7 trays of potentially viable tillandsias. These plants are not saleable as-is, but they have a good chance to produce pups.
<![if !vml]>
<![endif]>
When you start to process a tray like this, and see a tillandsia in bloom, it gives you hope that despite being exposed to a fire strong enough to melt PVC pipe, it was able to survive. Notice the black, burned material near the base of the plant. It turns out to be a piece of melted netting that fell from the tray above. Whew! No serious damage to the plant.
<![if !vml]>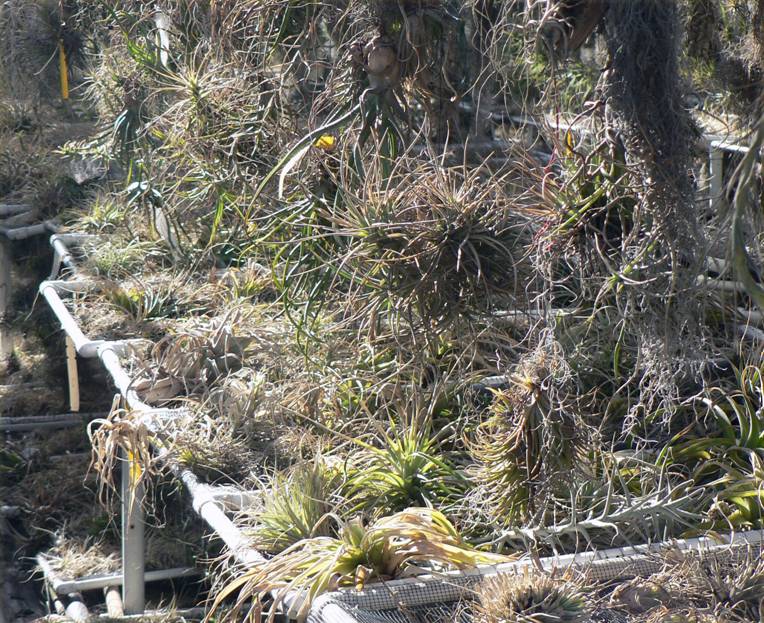 <![endif]>
It will take thousands of hours to sort through all these trays. Karl and Katherine processed 20 trays in 6 hours, working in just one of the five greenhouses. Many trays await attention by the onsite employees (6 adults) and occasional volunteers.
<![if !vml]>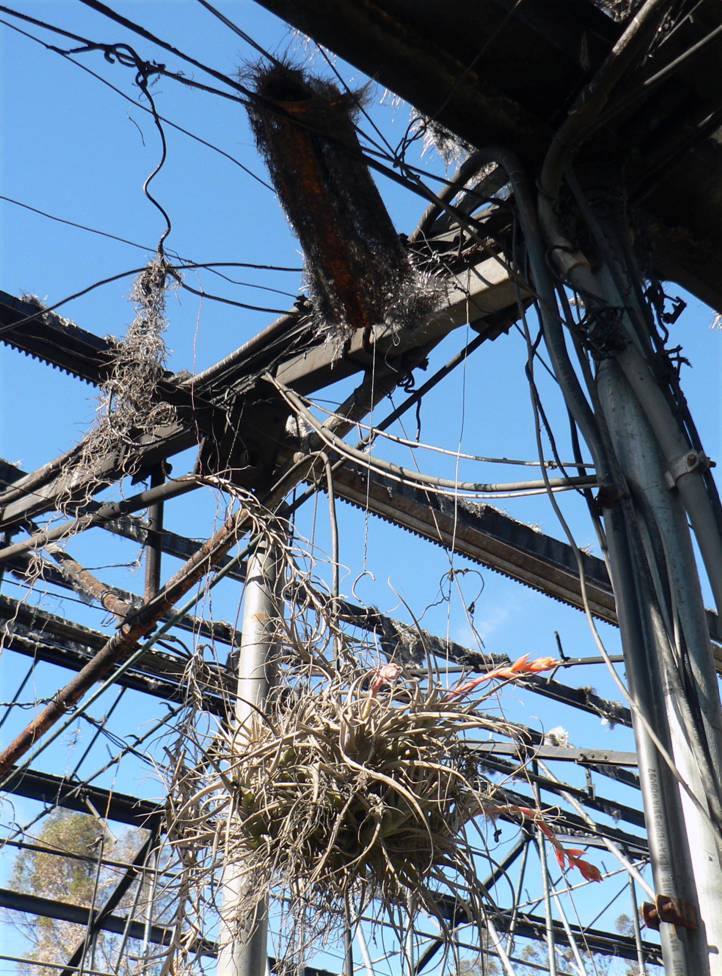 <![endif]>
We saw this blooming Tillandsia as a symbol of Hope and Recovery, blooming like the proverbial phoenix amidst the ashes of a ruined structure.
If you would like to volunteer onsite, please contact Katherine Poehlmann via email at kpoehlmann@ieee.org.
Donations are much appreciated at https://www.gofundme.com/LilacNursery