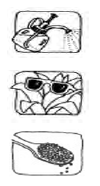 The Bromeliad Culture Brochure was created by the BSI as a single page (8.5 x 11″ double-sided) brochure; perfect as a handout at meetings or plant sales/shows. It contains an overview of the family as well as information on potting, watering, light, fertilizing, temperature, pup removal, and more.
It also contains information about the BSI and has a mail-in signup form on the back.
Add one of these to your new member information packet or drop one into each bag at your next member's bromeliad plant sale. Provide people with some good culture tips and spread the word about the BSI. Click to download the BromCulture.pdf Adobe Acrobat file.