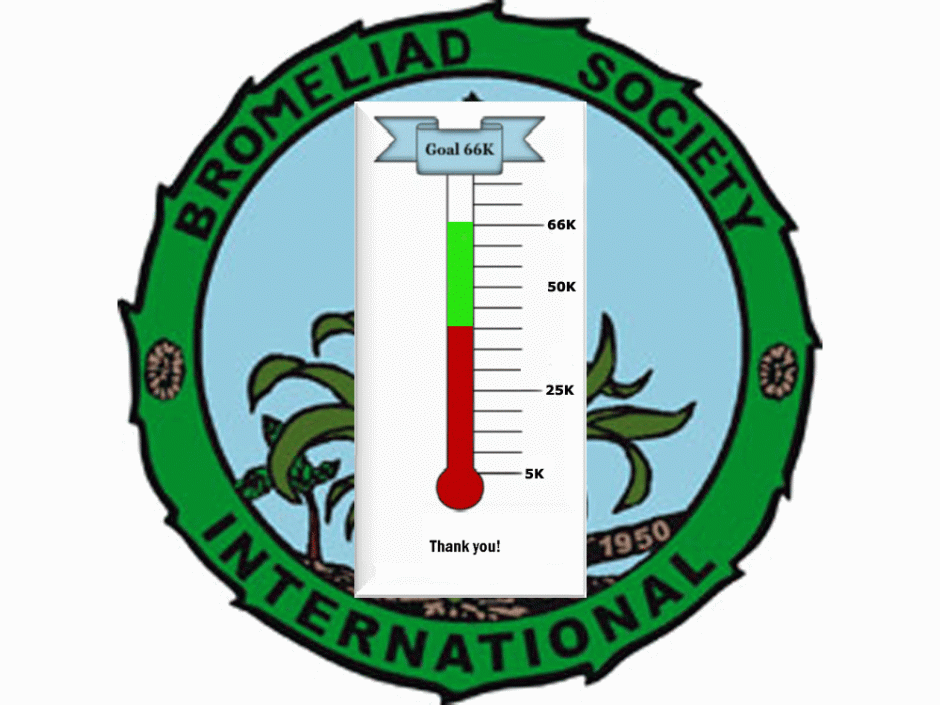 (updated June 15)
Dear Valued Bromeliad Society International Members:
It is hard to believe our first fund raising campaign, BSI 66 Fund, is nearing an end. It started a year ago at the end of the 2016 World Bromeliad Conference.  Inspired by a $25,000 anonymous, matching challenge from one of our members, for BSI to raise the same amount from donations, and receive the donation of $25,000 in return.  This challenge has proven very successful!
Members, affiliates and bromeliad related business have stepped up and donated over $25,000.  We have attained our goal for securing the matching donated funds!
However, we knew we wanted to go further than $50,000 and raise $66,000 in recognition of BSI's 66th anniversary.  Our fund raising efforts have now reached approximately $63,500.  In the past month we have raised over $3000. We are so close… only about $2,500 away from reaching our greater goal! One final push should get us there!
If you have not yet donated, please consider donating now to help us reach our ultimate goal of $66,000. If you have donated, thank you and please consider adding to your commitment to BSI.  Whatever you can contribute, $10, $25, $50, $100, would be so greatly appreciated to assist BSI in advancing its mission.  You have until June 30th to make your donations.  Please dig deep and help put us over the top!
All of our financial donors have been outstanding in support of this first fund raising campaign for BSI.  We can do this with just one more collective effort to attain that $66K goal! Thank you again for your generous support, dedication and love of bromeliads.
Kind regards,
Bromeliad Society International, Board of Directors
(ps. update: thru July 15th we have passed the goal of 66.000 US$)
You can contribute online right now with a credit card by clicking the button below:
---
You may also contribute by mailing a check or money order to:
Bromeliad Society International
BSI Treasurer
Ben Klugh
2515 County Road 369,
Cullman, Alabama 35057, USA
treasurer@bsi.org
If you want to print this information, please download the PDF file.