World Bromeliad Conference 2024 — "A Florida Treasure"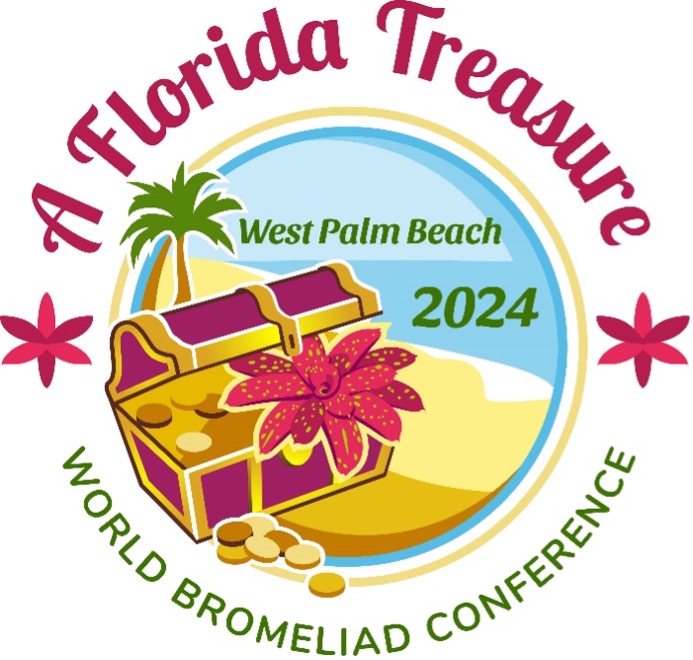 The World Bromeliad Conference (WBC 2024) will be held on May 22-25, 2024 in West Palm Beach, Florida, USA. For more information on West Palm Beach, see the Travel & Leisure article, This Idyllic Florida City Is a Hidden Gem Near Palm Beach, and Just As Chic and Happening.
WBC 2024 will include speaker presentations, a judged plant show, a special plant sale, a rare plant auction, bus tours, a banquet with keynote speaker, and more! Check out the WBC 2024 Schedule on the WBC 2024 Menu on the home page.
Worlds largest bromeliad sale, judged bromeliad show and auction….. fun, fun, fun.
The keynote speaker for the Banquet on Saturday night, May 25, 2024, is Andrew Devonshire from New Zealand with his presentation, Hybridizing: The Kiwi Way.
The hotel venue will be the West Palm Beach Marriott. There is a special hotel rate for registrants with online reservations now available for booking in the Members area of this website. Regular daily hotel rates in May for the Marriott are $300 and up, but the special WBC rate is $179 and comes with a reduced parking rate of $10 (regularly $16). The special hotel rate is available until the earlier of April 30, 2024 or whenever the special block of rooms is fully booked. When reserving your hotel dates, you need to enter your arrival and departure dates prior to selecting the "check availability" button or you will see an error message stating "no available rooms".
WBC 2024 Registration Fees are $295 if paid by March 31, 2024; $335 from April 1, 2024 through April 30, 2024; or $395 from May 1, 2024. Registration fees may be paid in the Members area of this website. To register for WBC 2024, you must be a BSI member. Paid registrations are 100% refundable through March 31, 2024 and not refundable thereafter.
Additional information on WBC 2024 will be posted here as it becomes available. The conference co-chairs are Alex Bello and Tom Ramiccio who may be reached at WBC2024@yahoo.com.
Keep an eye on the website! Below the West Palm Beach Marriott Pool