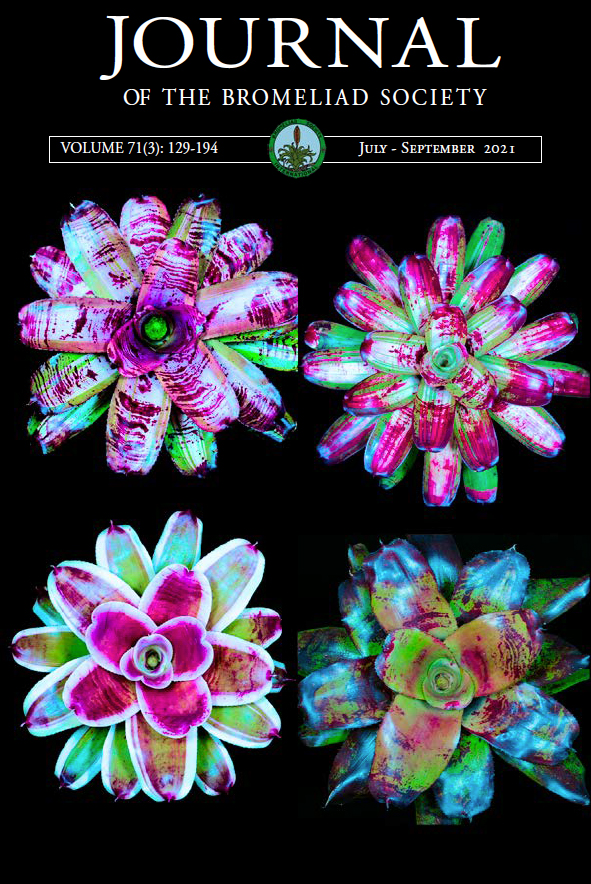 CONTENTS
BSI
132

Membership rates and members seed bank.
152 Welcome new members.
168 Thank you Bromeliad Society of Greater Chicago.
184 Call for Nominations for BSI Officers.
189 Call for Nominations for BSI Directors 2022-2025 terms.
192 Events Calendar, BSI Officers Directors and Chairs.
Peer Reviewed
133

 Introducing the Remarkable Pitcairnia melanopoda.- Eric J. Gouda and Cees S. Gouda.
140 Guzmania anae Wisnev nom. nov., a replacement name for Guzmania spectabilis (Mez & Wercklé) Utley, with neotypification of Aechmea spectabilis

(Linden ex

Galeotti) Brongn. ex Houllet. – Michael A. Wisnev and John W. Wiersema.
147 Reintroducing Guzmania dudleyi L.B.Sm. – Eric J. Gouda.
General
153

A memorable day in Serra do Cipó, Brazil. – Doug Binns.
160 Ray Coleman Memorial. – Dennis Cathcart.
169 Taxon Tracker No. 4: Bromeliaceae Species Debutants in the BSI Journal. – Graeme Barclay and Peter Tristram.
177 Finding Botanical Belonging through Bromeliads. – Allison Sill Bowden.