The Bromeliads is a classic how-to-book by legendary bromeliad and orchid horticulturist Léon Duval (1844-1907). It contains 46 exquisite line drawings of bromeliads and tillandsias to accompany his carefully translated original 1896 text. The book documents his experience gained over thirty years of growing his beloved bromeliads.
Duval was an avid botanist, concerned with greenhouse production, selection, hybridization, and showing of ornamental plants, especially bromeliads. His fine nursery and award-winning plants were well known throughout Western Europe and Great Britain. His hybrid lists are still among the most important of the period, and a source for determining parentage of hybrids still in cultivation.
By 1904, Duval maintained fifty 24-meter long, Dutch style double-slope greenhouses, each with manually stoked boilers and carefully placed pipes to assure precise growing temperature year around. He was a judge at many international exhibitions of bromeliads, which he termed "veritable jewels created by Nature."
In this book Duval has presented a practical guide to the propagation and cultivation of bromeliads. Although he never sought honors, Duval received awards of all kinds, including Officier du Mérite agricole, and the supreme distinction of the Légion d'Honneur. He was one of the Vice Presidents of the Société Nationale d'Horticulture de France.
This First American edition is a wonderful library addition (or gift) for any horticulturist, botanist, bromeliad lover, or garden club library.
<![if !supportEmptyParas]> <![endif]>
<![if !vml]>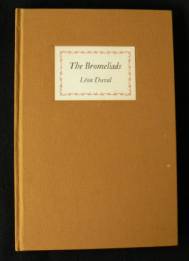 <![endif]>Hardcover, 155 pages, publisher: Big Bridge Press, 1990.  
ISBN: 1878471015. Edited by Michael Rothenberg.
Annotated with Introduction by Robert W. Read, PhD.
Translated from the original French by Doris Love.
Mint condition.
<![if !supportEmptyParas]> <![endif]>
Amazon price: $65.
SBBA price: $40.  (Add $5 for priority mail shipping)
To order, contact kpoehlmann@ieee.org.
          Please put "Duval book" in the subject line.
          Payment by PayPal only.
<![if !supportEmptyParas]> <![endif]>
<![if !supportEmptyParas]> <![endif]>