Gutter Gardening
<![if !supportEmptyParas]> <![endif]>
This is a great solution for those who have a small yard and wish to grow veggies. Growing in these "gutter gardens" mounted on the side of the house, the plants are protected from slugs, snails, and pillaging critters like possums. The idea is a variation on the technique for using rain gutters as planter boxes around deck railing. Plan to put the rain gutters in rows along the wood siding on the sunny side of the house.
Go to a big home improvement store like Lowe's or Home Depot and select some brown plastic gutters along with all the required parts to mount them in one long row. (The total length or a row would be about 20 feet). Drill some very small holes in the bottom of the gutters to let excess water drain out after mounting them on the siding.
<![if !vml]>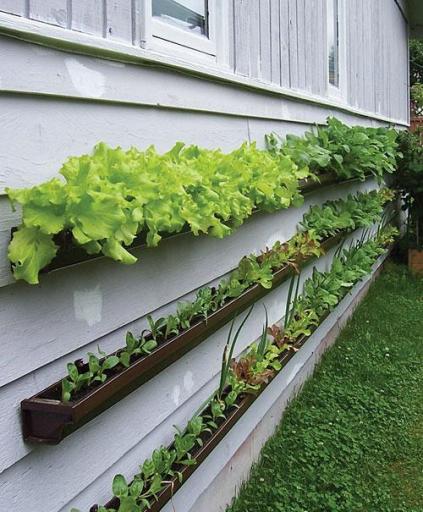 <![endif]>
Fill the gutters with Miracle Grow Garden Soil to about half full. Spread a layer of time release fertilizer and add the other half of the soil (the extra fertilizer is needed because frequent watering will drain out the nutrients quickly).
Pack the soil in firmly since the plants won't have a lot of it to grow their roots. Then put the seeds in and water well. Allow the water to run down the back side of the gutters (on the siding side) this first time only, so that any soil left would be in the gutters and not trapped behind them to cause damage to the siding later.
From then on, whenever you water, be careful to apply water only in the gutters, to keep the siding dry. It is helpful to use a watering wand attachment so you can easily control the hose output. Also, use just enough water to keep the seeds wet, so that the ground near the foundation of the house wouldn't get too wet either.
The seeds shown in the photo are: Simpson lettuce, variety lettuce, French breakfast radish, Swiss chard, beets, and turnips. You can also buy some green onions at the store, trim the roots, and stick them in the soil to re-root. You could also plant strawberries.
Using this method, you should be able to have fresh greens etc. every year from June through at least Sept.
<![if !supportEmptyParas]> <![endif]>
<![if !supportEmptyParas]> <![endif]>
The above is a summary of an original article by Suzanne Forsling posted at http://juneauempire.com/stories/072508/nei_309624417.shtml
<![if !supportEmptyParas]> <![endif]>
<![if !supportEmptyParas]> <![endif]>